WASHINGTON REDSKINS, HIRE RUSS GRIMM.
Bill Cowher retired and Russ Grimm became a leading candidate for the head coach vacancy of the Steelers in 2007. Surprisingly, Mike Tomlin got the Steelers job and Grimm headed to Arizona as offensive coordinator. Ironically, Russ Grimm and Tomlin would meet in the Super Bowl the following season. The Steelers won, but it was Arizona's insane offense that got all the attention.
Russ Grimm has led great offenses in Pittsburgh, but the one he's running in Arizona is one of the best in the league...well ahead of the Redskins in every offensive category. Imagine Greg Blache's sound defense paired with an offense as explosive as the one Russ Grimm is running in Arizona.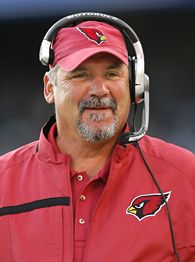 The Redskins had Russ Grimm
working as an assistant from 1992 - 2000
. It's not surprising that Grimm hit the road when Snyder and Cerrato started their reign of destruction.
A head coach in the making was already working at Redskins Park...but why would Snyder take a chance on Grimm when Schottenheimer, Spurrier, and Gibbs 2.0 are available? We'll never know how that would have played out, but it's not too late to make amends. The first step was firing Vinny Cerrato, the next step is bring Russ Grimm back to the Redskins as the head coach.
C'mon man.